Browse Active X - Software Development : 1-50 programs listed after popularity
Display by: Popularity | Title | Newest | Oldest
1) Active DJ Studio 2.4
ActiveX control that adds sounds playback, mixing capabilities and playlists management to DeeJays applications. Can perform separate control over the Volume, Pitch and Equalizer values. Supports MP3, WAV, Ogg Vorbis and other formats.

---
2) ActiveSMS - GSM/GPRS ActiveX 1.0
ActiveSMS is an ActiveX DLL that allows you to send and receive SMS (also binary and flash) through GSM terminals. It handles voice calls and the phonebooks of both SIM and terminal. It supports the terminals of the most important producer companies.

---
3) GdViewer OCX - Image Viewer ActiveX 4.5.0
GdViewer OCX is an Image and PDF Viewer ActiveX control that supports a lot of image format like tif, jpg, wmf, gif, j2k, png, pnm, psd... It allows you to customize zoom mode, select a region to display, scroll and pan the image, print the image...

---
4) Active Sound Studio 2.2
ActiveX control that allows adding sound playback capabilities to your applications. Supports the most diffused sound formats, playlists, special effects, tempo and pitch change and more.

---
5) csXImage 3.4
ActiveX (OCX) control to display, resize, join and edit images. Support for Twain scanners and HTTP uploads. JPG, GIF, BMP, PNG, PCX, PSD, TIFF and WBMP image formats. Watermark, add text, import from file or URL. Edit IPTC, EXIF and XMP meta data.

---
6) Vector Graphics ActiveX 1.6.7
Vector Graphics ActiveX is a component oriented for creating interactive graphics systems like GIS, CAD and SCADA.

---
---
7) VideoEdit Pro (Encode MPEG) ActiveX Control 1.4
convert video to MPEG1, MPEG2, VCD-PAL,VCD-NTSC, SVCD-PAL, SVCD-NTSC, DVD-PAL, DVD-NTSC, CUSTOM MPEG SIZE. Variable Bit rate / Constant Bit rate selection in MPEG files. join/merge a lot of video/audio files into vcd, svcd, dvd, mpeg1, mpeg2

---
8) Kylix SMS ActiveX Control 2.5
The control gives applications the capabilitie to communicate with GSM devices. you can send, save and read text messages, logos and ringtones to various models of mobile phones.It supports different formats of logos and ringtones.

---
9) PopupNotify 1.0
PopupNotify is an ActiveX control provides MSN style popup alerts. Popup alerts fade in and slide up above the taskbar and disappear after a few seconds. Supports transparency, balloon tips, pictures, gradients, alignments and more! Unicode enabled.

---
10) ActiveX Instrument Extension Components 3.000
ActiveX Automation HMI Instrument Input Components can be widely applied in many industry HMI applications and Simulation environments

---
11) WinPopup ActiveX 1.04
WinPopup ActiveX solves the problem of exchange data between your applications on the local area network (or in local computer) without any server. Simple to use, it also manages the Windows XP firewall.

---
---
12) Face Recognition ActiveX DLL 1.1
Create your own biometric face recognition security for Windows. Two functions : Train and Recognize. Uses neural net back propagation algorithm. Works great even for a low resolution web cam image. Source Code with Video capture & feature extract.

---
13) SCML MSFLEXGRID PRINTER 3.00
VB6 ActiveX DLL- Print and preview MSFlexGrid controls with formatting output.

---
14) GdPicture Pro OCX - Image Processing ActiveX 5.1.0
GdPicture Pro OCX is a full featured Imaging SDK component to view, create, acquire, edit and print bitmap and vectorial image. It supports many image formats like tif, jpeg, jfif, png, pdf, ico, wmf, gif, exif, bmp, j2k, fax, emf, pnm, pcx...

---
15) BarCode-ActiveX 5.92
BarCode-ActiveX is a very fast and efficient barcode label printing solution. This reliable ActiveX control requires no special knowledge and you can insert it into any Microsoft Office document or attach it to a database.

---
16) VisioForge Video Capture (ActiveX Edition) 8.05
VisioForge Video Capture SDK allows programmers to easily integrate video capturing and processing capabilities into their software applications.

---
17) Oxygen SMS ActiveX Control 2.2
Oxygen SMS ActiveX Control allows you to send text, logos, ringtones, receive messages, read and write default SMS centre number, get stored message total and busy count, their locations, read and delete from SMS inbox, get various phone parameters.

---
18) HTML2PDF Add-on 4.0.87
Library that helps you to convert HTML to PDF using PDF Creator Pilot.

---
19) Movie Player ActiveX Control 1.4
For Professional Windows Developers who need to provide video/audio playback function within their business application. Support Divx, AVI, WMV, MPEG-1, ASF,QuickTime 2.0 and earlier, WAV, MP3, MID file playback. Custom Playback rate.

---
20) TaskPaneXP 1.0
TaskPaneXP is an ActiveX control that accurately emulates the task panes, or 'Explorer Bars', that are found in Microsoft Windows XP. Task panes provide a flexible way of presenting a group of related tasks to your users.

---
21) VBBackup 1.4
VBBackup is a Visual Basic add-in for Visual Basic 6 to create backups of all your Visual Basic projects. With each project you can: Add/include additional files to be backed up, enter a memo for each project,and more!

---
22) GdViewer Pro OCX - Image Viewer ActiveX 4.1.0
Image Viewer ActiveX for .NET, vb6, Delphi, Access, RealBasic, C# that supports a lot of image format like bmp, tif, jpg, j2k, wmf, emf, gif, fax, png, pnm, pcx. Allow to view, zoom, print, rotate and flip, scroll, define area, zoom on area, pan.

---
23) ShellBrowser Components for ActiveX 7.02
The ShellBrowser components give a programmer easy access to the Win32 shell functionality. The components look and behave exactly like the corresponding parts of the Explorer and are Unicode enabled.

---
24) H323 Phone DLL 1.0
H323 Phone does the functions like - Make and answer phone calls, Detect tone and pulse digit from the phone line, Capture Caller ID, Support blind transfer, Single Step transfer / conference, consultation transfer/conference, hold, unhold.

---
25) mCore Pro SMS/WAP Push Com(Distribution) 1.8
mCore Pro is a robust and easy-to-use component that will enable your desktop or web based applications for 2-way SMS & WAP Push. It can be used with any ETSI 07.05 compliant GSM modem or phone handset connected to the PC serial port.

---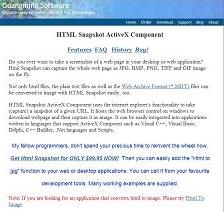 26) HTML Snapshot 2.1.2014.401
HTML Snapshot ActiveX Component can do: Directly save the web page at a given URL into image in bmp, jpeg, tiff, gif or png format. i.e. html to image, html to jpg, html to image, html to tiff, html to gif convert html string, mht to images.

---
27) SkinCrafter 3.3.1
SkinCrafter offers a methodology to improve standard user interface by adding skins support to software. Developers can easily change a color theme of whole application by applying a ready-made skin. Try SkinCrafter and see how your products can look

---
28) Teroid Data Grid View Export Control 1.0
Teroid Data Grid View Export Control is a .NET Windows Forms control which exports the contents of a Data Grid View to a csv (comma separated values), XML or HTML file.

---
29) HtmlSnap ActiveX Control 1.0
HtmlSnap ActiveX is a component to convert HTML files, plain text files or Web Archive Format(*.MHT) files to BMP, JPG, JPEG, GIF, PNG, TIFF, TGA, PCX, WMF and EMF image with whole web page or snapshot.

---

30) Hide My Folders ActiveX 3.0.0.0
Hide My Folders ActiveX is a failure safe and dependable activeX control, which is easy to implement in your applications. Even without the profound knowledge of kernel file access, it is possible to hide any file or folder in Windows system.

---
31) PDF417-ActiveX 1.92
PDF417Barcode ActiveX Control. Our PDF417-ActiveX Control has all the features necessary to easily add professional quality barcodes to any Windows application including Web pages, database reporting and labeling, product packaging, etc

---
32) vbSkinner Pro 2.2
You can change the look & feel of your application easily adding this ActiveX control to the forms. With vbSkinner Pro your project will have a skin system. The forms will have a ronded look, with a new title bar.

---
33) Teroid Multi Segment Display 4.0
.NET Multi segment display control

---
34) Async 2.0.2
Async is a multi-threaded activex component that gives visual basic developers the ability to easily create multi-threaded applications and DLLs. An ActiveX control and DLL are provided to maximize your ability to write the best possible programs.

---
35) Eym Barcode Reader OCX 2.3
Free demonstration of the EymBarcodeReader SDK, an ActiveX control that performs all necessary image processing and decoding stages to locate and read a variety of standard 1D barcodes from image data.

---
36) Paradox Direct Engine (ActiveX) 3.00
This engine allow to read and load the external Paradox tables into any MS Jet/ADO datasource No any external libraries for Paradox reading (no BDE, ODBC etc) used. Direct and fast record loading. A lot of import modes supported.

---
37) XD++MFC Library Professional Edition 8.2 8.60
XD++ Library for MFC by UCanCode.Net Software, an C++ class framework that provides your applications with a drawing surface for diagramming, symbol manipulation, drag and drop, scrolling, zooming, and many other graphics capabilities.

---
38) conaito FTP SDK for .NET ASP.NET COM 1.0
The conaito FTP SDK for .NET allows you to easily transfer files using directly access the data connection for unprecedented levels of control. The conaito FTP SDK for .NET was written entirely in managed code.

---
39) TIFF Image Viewer CP ActiveX Control SDK 9.05
powerful picture viewer sdk activex for VB.Net, c#, VB, VC++, PowerBuilder, VFP, .Net. Mark a selection, crop, zoom in , zoom out on selection and rotate the image function. Read, write EXIF image information, binary data types for storage.

---
40) Teroid Data Grid Print Control 2.1
Teroid Data Grid Print Control is a .NET Windows Forms component providing a set of methods and properties for printing the Data Grid which comes as a standard control with the .NET Framework, and includes page setup and print preview functionality.

---
41) ViewPDF OCX 2.0
ViewPDF OCX is an ActiveX component which enables your application to display and interact with PDF files. Simply place the control on your form, set the Path property, and you are all set!

---
42) PictureBox ActiveX Control With Inbuilt Zoom and Rotate 1.0
Picturebox ActiveX Control with inbuilt Zoom and Rotate functions. Relieves developers of writing seperate code for zoom and rotate fuctions. Also has inbuilt scroll bars to take care of increase in size due to zoom/rotate.

---
43) Movie Player Pro ActiveX Control 1.2
Support Divx, AVI, WMV, MPEG-1, MPEG-2 (need dvd decoder), ASF,QuickTime 2.0 and earlier, WAV, MP3, MID file playback. Overlay text, image on video. User define scrolling type, alpha value, font size, font name, text color, background color.

---
44) wodFtpDLX 3.3.8
Secure FTP client ActiveX component th It supports old, very common, FTP protocol, but also secured FTPS (FTP+SSL) and SFTP (FTP+SSH). It supports old, very common, FTP protocol, but also secured FTPS (FTP+SSL) and SFTP (FTP+SSH).

---
45) Encoder Wizard ActiveX 3.0
Encoder Wizard is a collection of two ActiveX (ocx) controls, Encoder Wizard and Decoder Wizard. These two controls allow you to fully support the Base64, Quoted- Printable, UUEncode, yEnc, MD5,HMAC MD5, URL, SHA-1, and Binary 2 Hex encoding methods.

---
46) #Calculation Component 2.1.19 8
#Calculation component is a powerful calculation engine for your applications. This component integrates expression parsing and evaluating. It's suitable for heavy-duty number crunching.

---
47) TanDB: Object-Oriented Reporting Control 1.01
Data Reporting ActiveX for VB 6.0 - TanDB is an Award winning Object Oriented, General, and 'On-the-Fly' Reporting Tool. It helps create robust and flexible Reporting System. It is a RAD Tool for Reporting. It helps to Automate the Reporting in VB Database Applications.

---
48) wodSSHServer 2.2.6
wodSSHServer is an SSH Server ActiveX component (but also Telnet Server ActiveX as well) that will give you ability to easily add SSH2 (and SFTP) server capabilities to your application, as well as old TELNET server protocol.

---
49) DoneEx INI-File Manager ActiveX 1.3
This ActiveX allows you manipulate with INI-file by the easiest way from any programming language. The INI-File Manager ActiveX can be used from VB, VBA, VB.NET, VC++, VC.NET, VBScript,JScript,Delphi, ASP, ASP.NET and any other programming languages

---
50) DVD Ripper ActiveX Control SDK 4.62
For Professional Windows Developers who need to rip the home DVD to different video/audio format and playback dvd within their business application. Support preview from a specific part of the dvd. Rip home video DVD to avi wmv, mp4

---


Browse Pages: |< 1 [2] [3] [4] [5] >> >|
Top Downloads for all categories