Browse Components & Libraries - Software Development : 1-50 programs listed after popularity
Display by: Popularity | Title | Newest | Oldest
1) IP2Location IP-COUNTRY-REGION-CITY-LATITUDE-LONGITUDE Database April.2013
IP2Location IP-COUNTRY-REGION-CITY-LATITUDE-LONGITUDE is commercial lookup database that translates IP address to country, region, city, ISP, latitude and longitude. Developers use this component for projects related to web, and client applications.

---
2) Barcode Reader SDK 3.0.75
DTK Barcode Reader SDK reads linear barcodes from image files and bitmaps. The unique and powerful algorithm searches for barcodes very fast, in any position and orientation from your images. Supported programming interfaces: DLL, ActiveX, COM, .Net

---

3) SMTP/POP3 Email Engine for Visual Basic 7.2
SMTP/POP3/IMAP VB email (32 & 64 bit) component library uses a simple API to send and receive mail, including HTML and MIME Base64 and quoted-printable encoded attachments. Supports SMTP & POP3 authentication, SSL/TLS, ISO-8859 and UTF-8 messages.

---
4) Bluetooth Framework Developer 3.1
Bluetooth Framework - unique library of components Delphi for work with mobile devices (PDA, cellular telephones). Allows to carry out communication(connection) with the device through: Bluetooth, IrDA, COM port.

---
5) DC Image Button 3.71
Image Button allows you to change button icons according to your user's mouse actions. You can set your program to display a different graphic when users click, hover, or scroll away from the button or changing colors on mouse-over.

---
6) ImageButton.net 1.0
ImageButton.net gives you the possibility to create easy nice graphical Buttons like known from pcGuardIT User interface. Don't waste time in creating you own solution. Simply add ImageButton.net into your VisualStudio.NET Toolbox... that's it.

---
---
7) VeriFinger Light SDK 4.2
VeriFinger Light SDK is intended for developers, who already have fingerprint scanner interfaces. VeriFinger can use fingerprint data from almost any fingerprint scanner. Developers can use scanner interfaces from scanner's manufacturers.

---

8) AquaSkin.Net 3.0.0
AquaSkin.Net transforms your.NET applications to look like the popular Mac OS-X platform. The component automatically skins your .NET application forms, controls , scrollbars, common dialogs and message boxes from a choice of 5 Mac styles.

---
9) DbControl 2
With DbControl.dll (Intelligent DataSource .Net Componenet) And DbControl Form Wizard Generate Advance Data Form in C# or Vb.Net And SQLServer ,Oracle ,Accesss DataBase Without writing any code.

---
10) ASP.NET PayPal Control for Website Payments Standard 3.1.0.5
ASP.NET Control Solution for integrating PayPal Website Payments Standard with your eCommerce Web Application. Generates Encrypted Website Payment Buttons on the fly. OOP Interface for buttons BuyNow, Donation, Shopping Cart, Subscriptions, IPN & PDT

---
11) EMS Quick Import 3.2
Advanced Data Import VCL is a component suite for Borland Delphi and C++ Builder that allows you to import data from files of the most popular data formats to the database. Adjustable parameters for each type of import.

---
---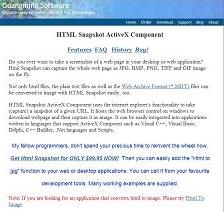 12) Html2image Linux 2.0.2014.401
Convert html to bmp, png, jpg and jpeg on Linux Support command line parameters Support jpeg compression quality control Support saving the whole html page to image without scrollbars. Support batch convert a lot of url to images

---
13) NConstruct 1.6.2
NConstruct is a RAD tool and environment for .NET Framework.Its goal is to reduce the time used for the development of most commonly used enterprise applications. Instead of months of developing you can build your core application within minutes!

---

14) WPF Barcode Professional 3.0
Barcode for WPF .NET. High quality vector-based Linear, Postal and 2D Symbologies. Visual Studio & Expression Blend support. WPF data-binding support. Crystal Reports .NET Support. Save barcode images in image files. XML Paper Specification (XPS).

---
15) PixTwix 6.03
PixTwix is an image processing ActiveX control featuring over 150 methods for manipulation and enhancement of images, special effects and filters, layer blending, selection routines and more. PixTwix can read and write many popular image formats.

---
16) NUnit Test Generator 1.32
Does the quality of your code matter? If it does, then you simply have to try the NUnit Test Generator. The NUnit Test Generator works with NUnit, MbUnit, xUnit to make your life easier. Increase your code coverage. Prevent tomorrow's bugs today.

---
17) GrFinger FREE 4.1
GrFinger is a powerful fingerprint scanning/matching library in DLL/ActiveX format. Sample source is provided in many languages. Many fingerprint readers are supported. Two end-user applications comes in the package. Free for non-commercial use.

---
18) SIP SDK 1.5
SIP SDK - A powerful and highly versatile VoIP SDK. Our SIP SDK provides a powerful and highly versatile solution to add quickly SIP (Session Initiation Protocol) based dial and receive phone calls features in your software applications.

---
19) Teroid Needle Gauge 4.0
A versatile and highly configurable .NET needle gauge control

---
20) FlexCell Grid Control for .NET 4.1.3
FlexCell is a flexible and easy to use grid control, it provides comprehensive functions, such as exporting to Excel/CSV/PDF/HTML/XML, importing from XML, printing, preview, sorting, charting, cell merging, virtual mode, ownerdraw mode, etc.

---
21) WinI2C-DDC Lite 4.05
WinI2C/DDC is a powerful solution that allows you to control monitors in Windows environment via DDC/CI protocol.

---
22) TXLSFile library (for Borland Delphi) 4.0
Read and write Excel XLS files from Borland Delphi directly in a few lines of code. TXLSFile does not use or require Microsoft Excel, and lets you bypass OLE Automation, and provides unprecedented access speed of up to 75,000 cells/second.

---
23) Delphi Code Library 2.1.0.146
Delphi Code Library is a powerful source code Library shipped with 1000+ lines of code, quick and powerful search engine, powerful printing capability, password protection, user notes & attachments handeling, favorites & rating support and more!

---
24) 2D / 3D CAD Import .NET 8.0
CAD Import .NET is an easy-to-use API for reading AutoCAD DXF, DWG and HPGL PLT in C#, VB.NET and other Microsoft Visual Studio environments. It is programmed completely in C#. Demos: Viewer, Editor, Import, Add Entities, MergeFiles, ViewerControl.

---
25) COMM-DRV/Lib.Net Professional Edition 20.00
Professional serial communication component / library for C#, VB.Net, managed C/C++, and any other .Net application running under Windows. Includes Zmodem, Xmodem, & Ymodem file transfer protocols.

---
26) VeriFinger Extended SDK 5.0
Multiplatform fingerprint identification SDK with biometric ActiveX clent/server components for rapid application development. Supports 20+ scanners and sensors. Includes programming samples in C, C++, C#, Java, Visual Basic 6, VBA and Delphi 6.

---
27) Virtual Print Engine v4.00
PDF Library / Report Generator / Print Engine. Free Community Edition. (!) Easy to use, fast and stable. Can render the dimensions of text- and bitmap objects in advance, allows absolute flexible and dynamic layout. Computes word- and page breaks.

---
28) ZylNMEAGenerator 1.25
ZylNMEAGenerator is a Delphi component that transforms position data in NMEA format. You can generate complex NMEA sentences from simple data inputs. The sentences are recognized by any NMEA compatible mapping software.

---

29) MS SQL Reporting Services Barcode .NET 6.0
Barcode for Reporting Services 2000 & 2005. Linear & 2D Symbologies. All export file formats (PDF, TIFF, Web Archive, and Excel) supported. Visual Studio 2005 Report Viewer controls support. Renders images in GIF, JPG/JPEG, BMP, PNG. RDLC support

---
30) ESRI Shapefile Plug-In for GIS.NET 1.0
With Geodesy.NET, you can quickly and easily convert geographic coordinates from one system to another. Several hundred coordinate system conversions are supported, and all conversions can be done in under three lines of code.

---

31) ASP.NET ImageDraw 5.0
Use all the potential of GDI+ to dynamically create composite images with lots of useful built-in Imaging Effects. Deliver real time generated composite images such as picture thumbnails, image buttons, image maps or any other graphical application.

---

32) ASP.NET Barcode Professional 6.0
Control which generates barcode images for ASP.NET. Linear and 2D Barcode Symbologies (All in One). Cross-Browser Compatible. Real WYSISWYG. Crystal Reports .NET Support! Transparent background support for GIF and PNG. AutoSize, DPI, AntiAlias, etc.

---
33) 3D Button API 3.1
With this button engine (SDK) you can give a new fresh look to your windows, dialog boxes and forms, using your preferred shapes, 3D effects, surfaces, textures, bitmaps, cursors, animations, sounds, colors and fonts.

---
34) MailBee WebMail Pro 3.1
MailBee WebMail Pro is an advanced web-based email client written in ASP. Supports all features of the Lite version plus DHTML editor, Address Book, Spam filters, multiple accounts per user, integration with existing systems, admin's guide and more.

---
35) N-Tier Slam 2.5.0.1
VB6 based TCP/IP N-Tier application server library that supports database access, chat servers and clients, sending of SMTP E-mail, and calling of sub procedures and functions at the server from a client application. Standalone database access.

---
36) DAC for MySQL 3.0.7
DAC for MySQL (also known as MySQLDAC) is the most powerful component suite for Delphi/C++Builder/ MySQL. It allows you to create Delphi/BCB applications with direct access to MySQL DB without BDE/ODBC. A MySQL library is not required.

---

37) FTP Client Engine for Visual Basic 3.3
FTP component library for Visual Basic or VB.NET provides direct control of the FTP protocol from any Windows application program. Transfer, rename, delete, list, append files. Create and remove server directories. Royalty free. Many examples.

---
38) TX Text Control ActiveX Enterprise 17.0
Word processing ActiveX component that offers developers a broad range of word processing features.

---
39) Chart component .Net 4.3
Chart Component .NET is a powerful charting component used to create attractive 3D and 2D charts for desktop applications and web pages using .NET technologies. 3D charting uses the OpenGL graphics engine to create sophisticated 3D charts and graphs.

---

40) Windows Std Serial Comm Lib for Delphi 5.4
Delphi serial port RS232/R485/RS422 communications component library. Control multiple ports simultaneously; line status/control,modem control,ASCII/XMODEM/YMODEM, virtual ports (USB to serial, Bluetooth serial), hardware/software flow control.

---
41) HXTT Text JDBC and CSV JDBC Drivers 3.0.003
Pure Java Type 4 Text JDBC and CSV JDBC (1.2, 2.0, 3.0) driver packages for raw data, flat text, CSV file, TSV file, PSV file, fixed-length, and variable-length binary file, supports transaction, embedded access, and remote access.

---
42) Wireless Communication Library VCL Lite 6.0.0.0
Wireless Communication Library for Delphi, CBuilder and BDS enables your application to use bluetooth, wifi, irda and serial port connection

---
43) RSS .NET Feed Parser Library 1.0.0
RSS .NET Component: Enable your application to easily consume or create RSS feeds. Provides unified feed parsing support for RSS 0.9x, RSS 1.0, and RSS 2.0.

---
44) WebGrid - The plug and play grid 2.0.2
WebGrid have 12 column types, 40 events, and have more then 100 properties for you to play with. This enables you to create faster and better web applications with an unequaled level of customization.

---
45) EZTwain Pro Toolkit 3.08
If you need to add scanning to your application, EZTwain will reduce the time, uncertainty and frustration of using TWAIN. Our Code Wizard will have you scanning in minutes, our rich feature set won't limit you. No unit royalties.

---
46) Karamasoft UltimatePanel - ASP.NET navigation control to build advanced side panel bars. 3.0
ASP.NET navigation control to build advanced side panel bars.

---
47) SIP Phone DLL 3.0
SIP Phone DLL - A powerful and highly versatile VoIP SDK. Our SIP Phone DLL provides a powerful and highly versatile solution to add quickly SIP (Session Initiation Protocol) based dial and receive phone calls features in your software applications.

---
48) Nevron Chart for .NET Q3 2006
Nevron Chart for .NET is a professional charting component for WinForms and ASP.NET. It features numerous business, scientific and financial charting types, VS design time support, empty data points, built-in toolbar, flexible axes, and more.

---

49) Alvas.Audio 2014.0
Alvas.Audio for .Net is an audio library written in C#. The collection allows C# and VB.Net developers to create applications that record, play, edit, convert and display uncompressed and compressed audio data. Encode and decode Dialogic .vox data.

---
50) GoDiagram 5.0
Add custom interactive diagrams to your .NET user interfaces, including networks, workflows, flowcharts, org charts, design tools, and more. Flexible, powerful, extensible. Includes automatic layout & instruments.

---


Browse Pages: |< 1 [2] [3] [4] [5] >> >|
Top Downloads for all categories