Browse HTML Editors - Web Development : 1-50 programs listed after popularity
Display by: Popularity | Title | Newest | Oldest
1) Macromedia Dreamweaver MX 2004
Macromedia Dreamweaver provides the productivity of a visual Web page layout tool, the control of an HTML text editor, and support for Dynamic HTML in one professional, easy-to-use package. Dreamweaver can be used seamlessly with Macromedia Flash, Fireworks, and Director to develop engaging Web content.

---
2) NetObjects Fusion 10
Fusion allows anyone with the desire to build a website the ability to do so. It includes great features like: drop design, photo galleries, e-Commerce, database functionality, RSS feeds, Flash components, CSS management and data-gathering forms.

---
3) Templates for free 1.0
Free Templates for your homepage. Best for webmaster to save money. You can use this templates free for non-commercial or commercial project. Download this free templates collection here.

---

4) Web Calendar Pad 2016.11
Generate HTML calendars visitors can view, print and read with RSS reader. Organize your life and keep your company, school or church informed of upcoming events. Ideal for students, coaches, and teachers to keep online schedules.

---
5) JXHTMLEDIT - WYSIWYG XHTML Editor 4.0.005
JXHTMLedit is a WYSIWYG XHTML content authoring tool on a small Java Applet. It provides a textarea replacement (like word processor) that allows you to edit the XHTML document directly in the final form (as will be rendered).

---
6) Visual Webcreator 1.0.650
Visual Webcreator is the tool for you who want to make your own website, but don't have time or the skills to make it the hard way (html hardcoding).

---
---
7) Ewisoft Web Builder 2.1
Free web editor especially for beginners and non-web-technical people. It uses "content + template = a web site". No need to code HTML. What You See Is What You Get. No need to design. Get a nice looking by a ready-made or custom-made web template.

---
8) DHE Editor Site Builder 2.8
DHE Editor is a WYSIWYG WEB editor that allows you to design web pages by simply dragging elements into place.You can import images, associate events to parts of labels, pictures, input fields, apply picture effects, shadows and more.

---
9) CoffeeCup HTML Editor 15.1
The HTML Editor now supports HTML5 and CSS3. With this and other great tools like code completion, a comprehensive tag reference, built-in validation, and vibrant website themes you can create gorgeous, standards-compliant sites.

---
10) Macromedia Dreamweaver MX 2004
Macromedia Dreamweaver provides the productivity of a visual Web page layout tool ...

---
11) Agama Web Buttons 3.0
Professional tool for creating Web Buttons. With this software you can create a variety of 2D and 3D glassy, metallic, plastic and even XP or Vista style buttonss. HTML & Java Script is automatically created! Creating roll-over and animated buttons!

---
---
12) Easy Web Editor website creator 2015.6.4
With this professional Web site creator program you can create your own personal / business Website with ease... Everything you need, no HTML required. Visual WYSIWYG, it makes it handy the long term site update / management, not just the startup.

---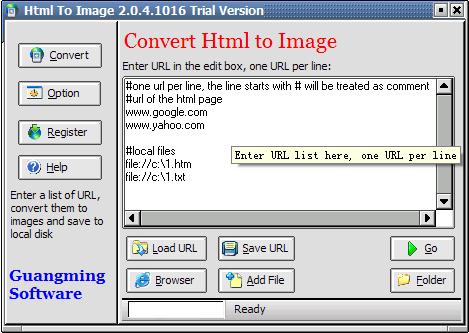 13) Html To Image 2.0.2013.1111
Html To Image helps you convert html page from any URL to image or thumbnails easily and quickly. It captures the whole web page's content into JPG, BMP, PNG, TIFF or GIF on the fly.

---
14) Gel Button Maker Pro 2.0
Finally someone has made a Gel Button Maker for Windows. Make perfect gel, glass, glossy or plastic pill buttons every time with ease in just a few seconds. You don't need to spend hours trying to get a expensive graphics program to make gel buttons.

---
15) HTMLtoRTF Converter 2.4
Flash-like converting multiple HTML to RTF. Support: tables, font face, size, color, alignment, hyperlinks, special characters, automatic select of coding etc. You can convert HTML into RTF with tables or transform tables to the text.

---
16) Advanced PDF to HTML converter 1.9.9.9
Convert PDF files into HTML so they can be used for online browsing and accessible to all search engines. Graphics, hyperlinks, bookmarks and vector drawings will be preserved.

---
17) CodeLobster 3.3.2
The CodeLobster is a handy and easy-in-use editor which is intended for creating, redacting and processing code. It supports such file formats as TXT, CPP, JAVA, JSP, PHP, PL, ASP, HTML, CSS, XML, XSL, JS, VBS, SQL, AS, Python, Ruby.

---

18) Easy Button & Menu Maker 4.3
Easily create cool drop-down menus and buttons for your website. Over 200 elegant design templates are available, including modern glossy styles. Features include visual menu designer and compatibility with all web browsers. Supports CSS-only menus.

---

19) HTMLPad 2006 Pro 11.2
Quick and powerful HTML, XHTML, CSS and web script editor. You can instantly create and edit HTML, XHTML, CSS and scripts, validate, reuse, navigate and format your code. Convenient interface and tools let you increase productivity and save time.

---
20) PageBreeze Free HTML Editor 3.0d
PageBreeze is a powerful FREE HTML Editor which has both visual (WYSIWYG) and HTML tag modes. PageBreeze's design emphasizes simplicity and ease-of-use. You'll find that you'll be creating great looking websites almost instantly.

---
21) HTML Builder XP 5.6 LITE
A powerful, professional and easy to use development environment for HTML.

---
22) Profile Manager Basic 3.0
Free, fully-functional, easy-to-use and customizable membership software for your web site

---
23) BestAddress HTML Editor 2006 Professional 9.2.2
Visually create, upload and maintain your websites with this multi-award-winning program. Design webpages with both visual (WYSIWYG) and code-based modes. Choose from a huge selection of features, some of which aren't available in other HTML editors.

---
24) HTML Code Library 2.1.0.160
HTML Code Library is a powerful source code Library shipped with 50,000+ lines of code, quick and powerful search engine, powerful printing capability, password protection, user notes & attachments handeling, favorites & rating support and more!

---
25) Dynamic HTML Editor 6.8
Dynamic WYSIWYG HTML Editor is a WEB editor that allows you to design web pages by simply dragging elements into place. You can import images, associate events to parts of labels, pictures, input fields, apply picture effects, shadows and more.

---

26) Web Form Anti-Spam 1.00.0.32
Convert selected parts of HTML into the form unreadable by spam bots but also understandable by Internet browsers, so your web-page visitors will see no difference from the original unprotected web form, what makes anti-spam protection user-friendly.

---
27) WizzyPig 1.0
WizzyPig is the WYSIWYG web page creation tool from Newell Web Services. Create Super Snazzy Pages with little or no knowledge of HTML. It works just like Microsoft Word. Insert images, tables and links with the click of a button.

---
28) En-De-Code.exe 1.0
Conceal text of URLs, email addresses, affiliate links, payment FORMs, HTML pages by converting to decimal or hexadecimal codes, or uncode any mixture of text, decimal, hexadecimal. HELP also describes URL redirect methods.

---
29) ColorCache 5.0
ColorCache is a powerful color picker, color scheme generator and palette management system. Select colors from your screen or use the built-in tools to create color schemes. Preview results in live web pages or export in a variety of formats.

---
30) EBook Maestro PRO 1.80
EBook Maestro Pro offers a powerful combination of an eBook compiler and on-line sales support. After creating a feature-rich e-product, the user can reinforce it with every means of eBook security applicable in professional eBook creation and sales.

---

31) 1st Page 2006 3.00
FP06 is designed for professional web development. Create, Edit and deploy websites with absolute ease and precision. The integrated tools empower web developers to develop standards-based web documents, quickly and easily. Includes 1500 Javascripts!

---
32) Data Extractor 3.1
Do you have a group of files that contains important data that you can't get to? Using Data Extractor you can simply extract any information from any files on your computer or from webpages. Simply extract email addresses or URLs, or your own data.

---
33) CoffeeCup VisualSite Designer 7.0.26
CoffeeCup Visual Site Designer is a WYSIWYG Website creator and editor that helps you make Webpages with no experience or HTML knowledge.

---
34) Encrypt HTML source 2.03
Encrypt HTML, password protect web site. ASP,SHTML,JavaScript,VBScript,CSS source code encryption. Web image protection. Security options:disable right-click,page printing,text selection/copying, clipboard,offline use of encrypted files.

---
35) CoffeeCup Website Color Schemer 4.2.130
Color Schemer is an intuitive yet simple utility for picking colors and creating schemes for your Website. Color Schemer provides many different tools for choosing and comparing colors.

---
36) HTML, XML, Script Optimizer 1.2
Very Nice HTML, XML, Images and Script Optimizer

---
37) HTTP Spy .NET 4.0
HTTP Spy .NET is a small application used to trace http request to a web site. HTTP Spy .NET will help you find any bottleneck and it will help you in analyzing your bandwidth usage.

---
38) CuteHTML 2.3
CuteHTML is a powerful text-based editor that allows you to create and maintain Web sites exactly the way you want to, with full control.

---
39) Magnifier 2.1
Ever needed to see what's going on on the screen down to the pixel level? That's where the Magnifier comes in. Simple and easy to use, the Magnifier is always handy for when you need to see all the details.

---
40) Dynamic Architect 1.4.5
Combines a straight-forward and easy-to-use interface to help you build the dynamic web pages of your dreams without a single line of code. You don't even need to know how to make a web page to create the most amazing ones within minutes.

---
41) CoffeeCup StyleSheet Maker 5.1
CoffeeCup StyleSheet Maker allows you to construct full-featured cascading style sheets, giving you full control of text placement, fonts, backgrounds, and more.

---
42) Atrise ToHTML 2.1.0
The ToHTML file format converter can convert these file formats to plain HTML: Windows WordPad, Microsoft Word 2, 6.0-95, 97-2002, 2003, 2007, Word Perfect, Works, RTF and other types. No MS Office is required. Optimized for dual-core CPU.

---
43) Apycom DHTML Menu 2.80
Apycom DHTML Menu is a ready-made, professional solution that allows webmasters to create superior, cross-browser, fast-loading web menus. Easy-to-setup, 24 visual effects, flat, 3d and XP styles, supports floating, drag-n-drop, separators, etc.

---
44) Unifier 2.3
Unifier is a tool to convert a batch of plain text or HTML files in various characters set encoding to Unicode. Features include auto-update of HTML character-set Meta Tag and converting HTML character and numeric entity to unicode character.

---
45) Advanced Robots.txt Generator 1.2
Create your robots.txt files in seconds and maintain them easilly and effortlesly with the unique utility Advanced Robots.txt Generator. The software supports 300 robots, works in a WYSWIWYG visual way and comes with full documentation and support.

---
46) Macromedia Dreamweaver MX 6.1 Update
This is an update for Macromedia Dreamweaver MX.

---
47) HomeSite 5.0
Web builders who code HTML and other scripting languages on the Web have a friend in HomeSite.

---
48) Yaldex Colored ScrollBars 1.9 1.9
Yaldex Colored ScrollBars is great and powerful tool that creates CSS Style definitions and JavaScript code for amazing animated scrollbars needed to add colored scrollbars on your web pages.

---
49) CoffeeCup RSS News Flash 4.6
Use Flash to add your own news or news from sites like Yahoo!, CNN, and CNET to your Website. Use RSS News Flash to announce news and link to other pages. Save space while improving the look and feel of your site.

---
50) Easy RSS Content Generator 3.35
Easy RSS Content Generator is an easy-to-use program for creating new unique content out of news feeds (the RSS, Atom, and RDF formats are supported).

---


Browse Pages: |< 1 [2] [3] [4] [5] >> >|
Top Downloads for all categories