Browse Dial Up & Connection Tools - Internet : 1-50 programs listed after popularity
Display by: Popularity | Title | Newest | Oldest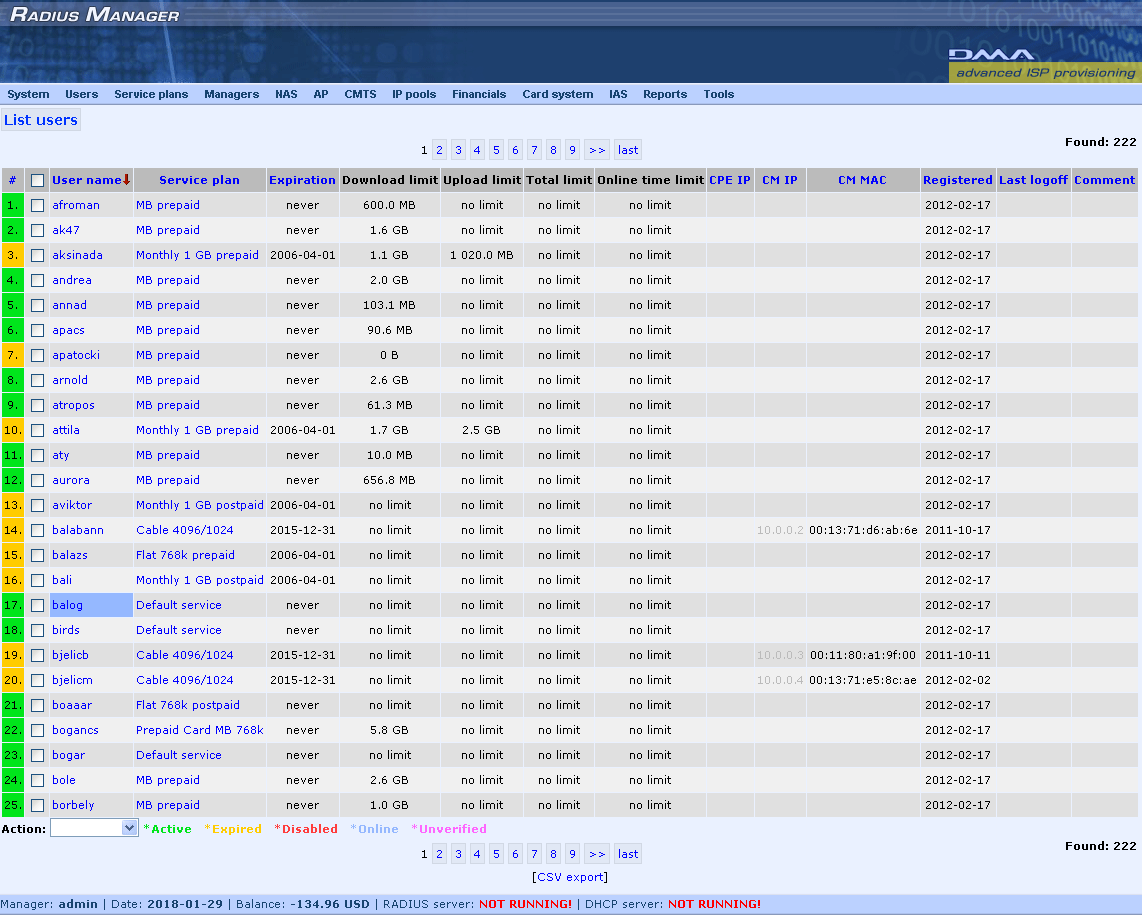 1) Radius Manager 3.5.0
Billing solution for Mikrotik, Cisco, StarOS and ChilliSpot systems. It supports traffic limitation, bandwidth shaping, uptime limitation, date expiration, prepaid, postpaid accounts, prepaid cards, PayPal and CC payment methods.

---
2) Free Internet Phone 3.0
Globe7 is a free downloadable software integrated with Video phone, IM, & Real time video streaming, powered by online advertising. Globe7 enables you to make free calls from pc to pc, pc to mobile & pc to landline by watching videos in Globe7 TV.

---
3) Webcam and Screen Recorder 7.508
Records webcams, full screen or part of the screen to a video file such as AVI and WMV. You can also record sound with the video.

---
4) ChangeIP 1.1
One-click change of your network setting. It is useful in multiple networks. 1) Support multiple TCP/IP adapters. 2) Support static IP and DHCP. 3) Support IE proxy. 4) Not need to reboot system after IP is changed.

---
5) PC 2 Answering Machine - Professional Edition 2.0
'PC 2 Answering Machine 2.0 - Professional Edition' is a software designed for the personal computer which functions as an answering machine for home or office. Just connect your phone line, and turn your PC to a powerful Answering Machine.

---
6) Send To Phone 2.1
Send polyphonic ringtones, images, and other files to your mobile phone without any cables and adapters! With "Send to Phone", you can transfer files with a few mouse clicks.

---
---
7) Internet Cyclone 2.20
Internet Cyclone is a powerful, easy-to-use, Internet Optimizer for Windows 95, 98, ME, NT, 2000, XP, Vista, 7 and 8 designed to automatically optimize your Windows registry settings wich will boost your Internet connection up to 200%.

---

8) Virtual Modem 2.1.1.1
There are many old communication applications that require a direct modem connection. This program allows you to substitute physical phone lines with a local TCP/IP network or the Internet without investing thousands into new communication software.

---
9) NetTurboPro 2005
Get higher speed Internet access with existing phone line, PC, and modem. NetTurboPro configures modems for a better performance while you surf the web, play online games, and download files. It also configures Internet Explorer for better stability.

---
10) RealSPEED Connection Speed-Up Utility 3.1
RealSPEED is a program empowering and speed up your internet connection sharply. It is optimizing the unknown settings and the registry of your operating system. Supports most of the connection types like Modem, Cable, ISDN, xDSL, Satellite, etc.

---
11) Speed Master 1.0
Optimize your Internet connection and download performance.

---
---

12) Advanced Net Monitor for Classroom 4.9.12
Net Monitor for Classroom is a program that allows a view of a computer monitor of a remote computer, which is connected to the network. After start the program displays the screens of all remote computers. Teacher can also lock the remote computers.

---
13) Pocket Connection Manager 3.01
With Pocket Connection Manager you can connect your cell phone to your Pocket PC and get online no matter where you are. Take advantage of new 3G high-speed data and GPRS networks to get your email and work online all over the world.

---
14) Traffic Counter 2.0.4
Traffic Counter is an easy-to-use tool to display and count network traffic of your computer. The traffic counter reports daily and monthly traffic. It allows you to set monthly traffic limit, alerts you when the amount of the traffic is used.

---

15)
PortChain 2.8
---

16) Voicent BroadcastByPhone Autodialer 5.1.0
PC to Phone Auto Dialer Telephone Voice Recording Broadcast. Ideal for group event reminders, marketing, political campaign promotion, emergency notification and more. Spreadsheet interface makes it easy to create or import phone list.

---
17) Flexiblesoft Dialer XP Lite 5.4
Flexiblesoft Dialer XP Lite is a Professional phone dialing system. Connect, Reconnect & Redial, and Disconnect from the Net easily, quickly, and even automatically.

---
18) Throttle 8.9.5.2016
Throttle instantly upgrades your computer and modem to download files faster, browse the web faster and play games without lag. Throttle is one of the best internet acceleration software products and works with Cable, DSL, U-Verse, Fios internet.

---

19) InJoy Dialer 3
InJoy offers unattended operation, robust [24/7] connections, Firewall protection, Internet Gateway, and powerful IPSec VPN capability. It's the perfect choice for dial-up based embedded systems, mobile workers and the home-network gateway.

---
20) PkStreaming Video Chat Software 3.0
Video Chat software for adult industry with PPM and PPV capability and full OOP PHP architecture,scalable,easy to maintain and very flexible template system

---
21) Flexiblesoft Dialer XP PRO 5.4
Flexiblesoft Dialer is a Professional phone dialing system. Connect, Reconnect & Redial, and Disconnect from the Net easily, quickly, and even automatically.

---
22) Dialer Queen 1.31
Dialer with skins and plugins support. Supports several ISP's and unlimited phone numbers to dial up to each ISP. Keeps detailed statistics for each connection and counts an amount of money you've spent using flexible system of tariffs etc...

---
23) connectionGuard 2.2.9
Monitor any Internet connection in real time. Prevent unauthorized traffic. Keep an eye on our compact, easy-to-read window to assess how sites and servers respond. Use it to detect spyware. Unauthorized traffic can no longer remain hidden.

---
24) Phone Recorder Plus 1.0
Phone Recorder Plus Answering Machine: professional log, forward calls to e-mail, a personal web-site, a personalized answering mode and a different alert sign for each caller, Hidden Service, flags and priority for each call.. much more... try it!

---
25) Report Tool for Cisco Callmanager CUCM 1.3
Report Tool for Cisco Callmanager (Unified Communications Manager) produces comprehensive documentation for Word and HTML: Configuration Report (all Callmanager objects) and Phone Inventory Report (Model, MAC, Serial, Switch Neighbor, .) .Free demo.

---
26) Give Me Too Network Sniffer 2.44
Give Me Too is an easy-to-use network analyzer for Windows. It controls your LAN, captures all visited Web pages, sent and received emails and stores them to a folder of your choice. You can view the captured data using your browser or e-mail client.

---
27) Remote Modem Control 4.49
Control remote modem over TCP/IP. Client-server technology. Easy and useful interface. Analyze all client's traffic. Many other function support: http/https/ftp proxy/port-mapping/dial-on-demand/chat/encryption & other.

---
28) Stay Connected 4.01
Tired of being cut-off while downloading or writing an email? Stay Connected! can help solve all your disconnection problems. With multiple options to choose from, no matter how your ISP tries to disconnect you, you'll never be knocked off!

---

29) Connection Keeper 10.0
A free program that makes sure your ISP won't drop your internet connection due to inactivity. Connection Keeper can also be set up to automatically close those annoying pop-up windows.

---
30) WiNc 2.1
Winc automatically detects and connects to WiFi networks and stores personalized profiles so that users can automatically connect to their favorite networks without having to reconfigure their settings each time.

---
31) NetIRC 1.3.5
Free windows chat client designed to be like common chatting such as msn,yahoo.It supports all the major features with friendly user interface.

---
32) TimeUp 4.7.60
TimeUp is a FREE online timer that keeps track of the time spent on the Internet. An icon in the system tray recognizes all internet connections on analogue and ISDN modems. It calculates your phone bill and gives you an overview per day or month.

---
33) TunnelSC 1.0.3
TunnelSC allows you to set up TCP connection to any Internet host from behind firewall using external proxying server (TunnelSVR). All you need - just port 443 (HTTPS) allowed! Visit our site for details.

---
34) IYSoft Dial-Up Connection 2.0
IYSoft Dial-Up Connection is a utility monitoring your Dial-Up Networking connections. IYSoft Dial-Up Connection creates a detailed log of all your connections, including time, length, costs and descriptive information about the connection

---
35) Internet Access Manager 1.22
Internet Access Manager is a nifty utility you can use to schedule and simplify your access to the Internet or to another computer. It is designed to help you make and maintain Internet connection with as little fuss as possible.

---

36) Accelerate 4.0
Boost your internet connection without upgrading your hardware with Accelerate 2002. Get the maximum performance out of your modem!

---
37) BySoft InternetPal 3.1.2.463
InternetPal is 32-bit win95/98/NT/2000/XP program for monitoring Internet connection. Automatically monitors calls and detects connection types. It runs in the system tray. Detailed information about the connections is stored into the log. Freeware!

---
38) NetScream 1.2.27.2012
NetScream is a tool for all that allows you to modify your modem settings to increase internet performance up to 200 percent!! No modifications to your hardware are made and all adjustments and settings are done in an easy to use interface.

---
39) Joyfax Server 10.95.1124
Network fax software allows you to send and receive faxes via public phone lines or T.38 SIP trunk. Key featues: Fax to Email, Fax Over IP(3CX Phone System PBX), Cover Page, Fax Editor, BlackList, SMS Notification and Multi-language supported.

---
40) TZO Dynamic DNS with PhotoSharing 3.2.1
TZO uses true dynamic DNS client/server technology to fix a static domain name to a dynamic IP address. This allows Internet users with Cable, DSL and dialup Internet connections to host their own photo server,website, FTP and mail server and more

---
41) Quick3270 Secure 3.73
Quick3270 Secure is a powerful, high reliable 3270/5250 terminal emulator for Windows 95/98/NT/2000/XP. Quick3270 is fast, uses low memory and includes a large number of advanced features.

---
42) DUTraffic 1.5 RC1 build 35
The powerful dial-up monitor with an opportunity of record of statistics. Allows to start and close applications depending on a status of connection. Also there is a system of notices on change a status of connection.

---
43) OnlineMonitor 3.10
OnlineMonitor is used to visualize and control the speed of internet connections. It displays the current download- and upload-speed graphically and/or numerically. It also logs the transfered amount of data for the connections.

---
44) Remote Dialer 4.0
Remote Dialer adds dialing capabilities to any application. It can also be used as a standalone dialer. When the Dialer is loaded it appears in the system tray. Highlight a phone number and copy it to the clipboard.

---
45) Amazing Dialer 1.80
The most feature-rich and user-friendly dialing software for Windows. This powerful program provides everything you need for working with the dial-up Internet connection.

---
46) OptimAccess Dial 3.0
OptimAccess Dial is designed to protect the dial-up connection of PC to the Internet. If OptimAccess Dial is active, its driver prevents any process from changing the current dial-up connection and adding a new connection.

---
47) Visual IP Trace 5.0e
Visual IP Trace helps identify hackers, validate websites, and investigate IP addresses. Trace analysis reports provide detailed information including the estimated physical location, network provider contact information, domain registartion info.

---
48) Gate-and-Way Internet 2.2
Quiet navigation, with the safety of a powerful firewall, using only one account with your ISP for all the users on the LAN. Redundant connections. Other Gate-and-Way's modules: Mail, Fax, Internet, Voice, RAS. All them centrally managed.

---
49) Fax Server Pro 9.8.1111
Fax Server Pro is a client and server system designed to integrates fax communication with your IT infrastructure. Sending a fax is as simple as printing from any Windows application. Incoming fax is routed directly to desktops or email as PDF file.

---
50) Joyfax Broadcast 8.30.1122
A personalized faxing software can reach thousands of people with no limit. This easy to use product is your ideal communication tool for fax marketing, customer communication, event notification, newsletter publishing and more.

---


Browse Pages: |< 1 [2] [3] [4] >> >|
Top Downloads for all categories